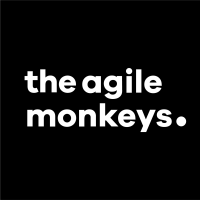 The Agile Monkeys
Back
About us
We (The Agile Monkeys) are a team of full-stack senior software engineers offering development services that focus on serverless applications, microservices, and event-driven architectures. We are distributed across North America and Europe. What sets us apart is our relentless focus on high-quality engineering. We are defenders of common sense at work, which in summary means the absence of norms such as predefined work schedules or location in a given office.
Cool things about The Agile Monkeys
We strongly believe that businesses like ours can play a fundamental role in the construction of a better future so our plan is to do something meaningful and make a real contribution to the world. We're working on it ;)
Working methodology
We are not zealots about any technology, process, or method. We tend to constantly question any issue. We even question whether we shouldn't be questioning everything. We hate buzzwords and marketing bullshit. ‍ We prefer to talk about real stuff, go deep into every matter, understand it, criticise it, simplify it, and then execute. We believe that discussions about which technology is better are mostly held by developers who are only defending what they know and what benefits them.
What people fit The Agile Monkeys?
We are especially fond of nerds, geeks, and shy, creative, and different individuals. However, we do not like people who claim to know the one truth and believe they are above everything and everybody. We wouldn't work with the best programmer in the world if he or she were a lone-wolf programmer who didn't appreciate other people's opinions. We believe that a good team is a thousand times better than any individual. Also, we have fun working together and that is absolutely priceless.
Jobs
Network Engineer
Check offer
AWS
Infrastructure As A Code
Network Engineering
Terraform
Ansible
Full Stack Engineer (focused on Backend)
Tech stack
Python
React
Java
Swift
Scala
Go
Haskell
Objective-C
Elixir
TypeScript
Benefits and perks
Work from home
Flexible schedule
Food & drinks
Gym discount
Language lessons
100% remote culture
Mentorship plan
22 days of vacation + your birthday + a Friday or Monday off when there is no holiday in a month
Everything that has to do with your physical and emotional well-being. (Coaching, nutrition, yoga, body training, meditation)